Watertight hinged doors

Winel doors can be found in almost any sector in the maritime industry.
Their hinged doors give a 100% watertight seal and are made to fit the toughest conditions. Splashtight, weathertight and watertight central closing doors are built according to latest seagoing rules and regulations.
Over the years Winel have put considerable effort into offering maintenance free and easy to install products to make life easier and safer on board. Their patented Musketeer system has found usage in many ships all over the world and is renowned for its excellent operating system: A stainless steel central closing mechanism with a quick acting handle on both sides. All rotating parts are provided with ORKOT grease-free bearings
We offer the following types of hinged doors:
Musketeer splashtight & weathertight doors Q-Line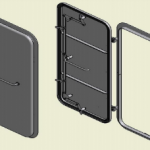 These doors are available in:
Steel Grade A
Seawater resistant aluminum
Stainless steel AISI 316L
6 or 8 mm door blade with 2, 4 or 6 closing points
Download the product sheet here musketeer doors q-line
Musketeer HEAVY watertight doors Q-line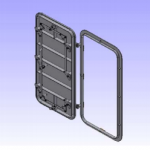 The watertight bulkhead doors are water pressure tested up to 12 mwc from both sides and available in:
Grade A steel, Seawater resistant aluminum or Stainless steel AISI 316L
with 8mm door blade with necessary stiffeners and included open-close indication
Individual Class Approval Certificate is mandatory
Download the product sheet here Musketeer HEAVY watertight door
Musketeer GRP doors (glass fibre)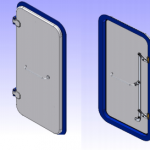 Light weight construction complete with insulation
Frame: aluminum, steel or stainless steel
2, 4 or 6 closing points
Download the product sheet here musketeer grp doors q-line
Besides their standard doors Winel also offers a heavy-duty watertight door for the offshore oil and gas industry:
Winel A60 Watertight Fire doors 60mWc and 30mWc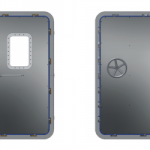 Fully MED certified as fire door acc. to FTP-Code 2010
It is type approved by DVN-GL acc. to the latest rules for classifications of ships and mobile offshore units and comply with the International Load Line Convention 1966. Individual approvals for ABS, Lloyds and BV are available.
Download the product sheet here A60 WET-WT-FireDoors
For all Winel doors we offer a wide range of options.
Contact us for further information or click here to see some of the options: Options for Q-line doors