Thrustere

P.N. Erichsen is the authorized Jastram distributor in Denmark, thus we are pleased to offer their extensive product range to our clients: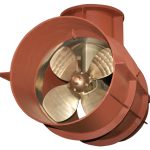 The Jastram Transverse Thrusters are installed either in the bow or stern to produce side thrust at low ship speeds.
The bowthrusters provide excellent manoeuvrability during berthing operations, or when sailing in narrow waters. Both fixed and hoistable thruster systems are available. These are active devices that produce thrust immediately upon activation, from 30 kW to 1800 kW.
The bowthruster gear is bolted to the duct, which makes it accessible for repair and maintenance while docked, or simply by trimming the ship while it is en route.
The thrusters are available in various sizes, duct dimensions from Ø550 up to Ø2800 mm, and the engine can be either hydraulic, electrical, or diesel-powered.
Contact us for further information or click to see our Jastram thruster brochure here: