Hatches

Winel offers a wide range of standard hatches up to 800×800 mm, which are available in either steel, seawater resistant aluminum or stainless steel AISI 316L.
Operation is either manual or electro-hydraulic and can be done by lever, hand wheel or T-Key.
All hatches can be supplied with a quick acting closing mechanism, which is both reliable and maintenance free.
Take a look at some of the hatches they offer here:
Watertight hatch – musketeer system with gasspring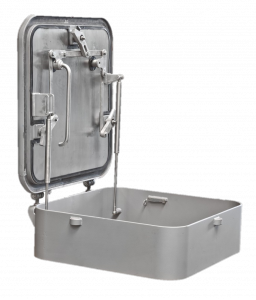 Weather tight hatch – musketeer system with handle
Weathertight Forepeak-yacht-hatch
Watertight Yacht-B-hatches-Flush-frame
Contact us for further information or any special execution needed. We are always ready to help with a quote.