Compac

Seawater Lubricated Bearing System
Thordon COMPAC bearing systems is a high-performance seawater lubricated bearing system primarily for "blue water" operating conditions.
A Thordon COMPAC open seawater lubricated propeller shaft system offers considerable advantages to ship owners, not only in bearing wear life predictability and reliability, but they are also cheaper to maintain, easier to install and are future compliant.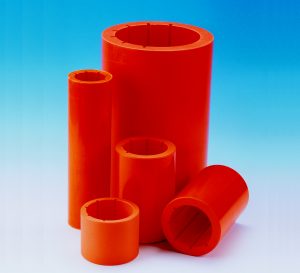 To reduce start-up friction and eliminate stick-slip, COMPAC's formulation includes special lubricants to provide a low coefficient of friction. To promote early formation of a hydrodynamic film between the shaft and bearing, the lower (loaded) portion of the bearing is smooth, while the upper half of the bearing incorporates grooves for flow of the water lubricant/coolant.
Among others the COMPAC system has the following qualities and benefits:
Zero pollution risk (no oil required)
Easy fitting
Reduced seal maintenance costs
Inspections without shaft withdrawal
Resistance to shock and edge loading
COMPAC bearings are available in either full form tubes or in a split tapered key design.
Water Quality Package
The COMPAC system typically includes a Water Quality Package, which is designed to supply seawater to the propeller shaft bearings for lubrication and cooling while also removing suspended solids from the seawater.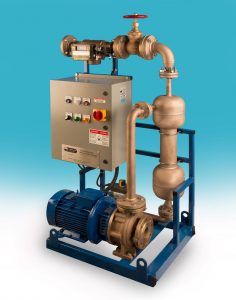 A constant supply of relatively abrasive free water is an important element in ensuring long, predictable, bearing wear life. With this factor in mind, Thordon has developed a self-contained supply, conditioning and monitoring package to ensure that an adequate supply of clean seawater is consistently being delivered to both the forward seal and the bearings.
The Thordon Water Quality Package is designed to supply seawater to the stern tube bearings for lubrication and cooling at a minimum flow rate of 0.15 litre/minute/mm (1 US gallon/minute/inch) of shaft diameter and to condition sea water from the water supply by removing suspended solids with a specific gravity of 1.2 or higher and greater than 80 microns (0.003"). A flow alarm is incorporated to alert the operator to any low water flow condition to the bearings.
The Thordon Water Quality Package is designed to operate on a stand-alone basis or can be fully integrated into the ship's control and monitoring systems to allow operation in an unmanned machinery space.
Please follow the links for further information or contact us for a specific quote
Water Quality Package Brochure