EasiDrive – Portable Valve Actuator System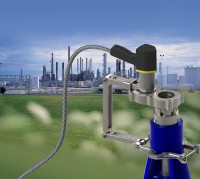 Sofis (Smith Flow Control's) EasiDrive portable valve actuator effortlessly opens and closes valves in oil refineries, chemical and power plants, water and wastewater facilities and paper mills. The tool is especially effective on valves that require a high number of turns or are otherwise difficult to operate because of high torque or where adverse climates (sub-zero, tropical, dessert environments) make operations more challenging.
It has several key features that make it exceptional. One operator can efficiently work banks of valves with a single tool, whilst reducing fatigue and risk of injury; this can result in major cost and time savings.
The EasiDrive system is versatile and can be powered by air, electricity or battery. Torque of up to 950NM can be generated, depending on the client's choice of equipment.
Click on the product name for further information
or download our brochure here