Thruster Drives and Controls

Since 1950 Jastram has been offering a wide range of thruster drive and control applications: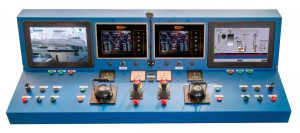 3-step drive systems with resistor units and slip ring motors have been the most popular drives over the last few years.
Dynamic drive, a multistep drive system with resistor unit, slip ring motor and reduced starting current, is the cost-competitive alternative to controllable pitch propeller (CPP) thrusters with the advantages of the robust fixed pitch propeller (FPP).
Frequency-controlled (FC) drives accommodate the increasing demand for stepless control. Interfaces to joysticks and dynamic positioning systems as well as any other customised application can be realised by Jastram.
Control systems including operator panels for hydraulic and diesel engines as well as other drive systems are designed and interfaced in close cooperation with the supplier of the prime mover.
Operator panels for bridges, wings, afts, flybridges and portable stations are available in standard or customised designs.
The alarm system displays alarms and faults on the operator panels and switch cabinet. Interfaces to any alarm monitoring system (AMS) can be achieved.
Contact us for further information or click here to see Jastrams brochure: