Thorplas-Blue

Thermoplastic bearings from Thordon
ThorPlas-Blue was developed as a maintenance-free solution to replace greased bronze bearings, thus eliminating a possible source of pollution.
It delivers superior performance in all deck machinery applications where even sealed, rolling element bearings often fail prematurely as a result of salt water ingress.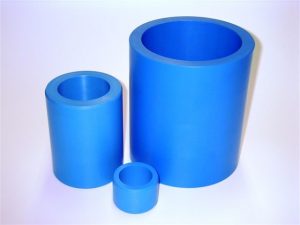 ThorPlas is an excellent tough material with the following characteristics:
Does not require grease (or greasing systems)
Self-lubricating with low friction and low coefficient of thermal expansion
Low water absorption rate
Improved ability to operate at elevated temperatures. 80˚ C  in water and 110˚ C dry
Improved chemical resistance in all major chemical product categories
Capable of operating pressures to 45MPa (6,527 psi), ThorPlas-Blue can be easily back-fit into virtually all applications where greased bronze is currently installed.
To facilitate maintenance while under way, ThorPlas-Blue can be easily and safely machined using on-board machining facilities and then installed quickly.
ThorPlas is available in standard sizes for machining according to the requirements from customers.
The rough bearings can be delivered with a diameter of max. ø 400 mm and we are pleased to offer a variety of sizes from stock
Click here to see the ThorPlas-Blue brochure and contact us for a quote or further information