Valve Position Indicator (VPI)

Reliable position feedback to your control room
The Valve Position Indicator helps you to get a clear overview of the position of your manual linear valves in the field.
The Sofis (Netherlocks) VPI is available in two versions: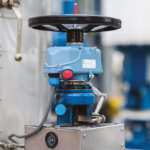 The A-series
which is fit for operation in any type of onshore environment, from arctic to desert weather conditions.

The S-series
which is made of AISI 316 stainless steel and resist even the roughest offshore conditions and all weather types.
The VPI is built to perform in environments with high explosion danger. It is EX-certified and approved for use in Zone 1 classified areas.
Click on the product name for further information
Valve Position Indicator (VPI)
Or download our brochure here: