Safety Systems for Valves
Smith Flow Control and Netherlocks Safety Systems have merged.
Two global leaders in the field of valve operations have joined forces and move on as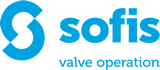 Netherlocks is a Dutch manufacturer of industrial valve safety solutions such as valve interlocks, valve position indicators, partial stroke testing devices and portable valve actuators and the company has been in the market since 1993.
Smith Flow Control is a British company who specialize in the field of Mechanical Valve Control Equipment and Valve Management Systems. The company was founded in 1985 and today they support some of the world's biggest companies involved in the oil, gas and petro-chemical industries.
In close cooperation with their customers, Sofis provide simple, reliable, tailor made products to create a safe working environment throughout the world and with their combined expertise and united service team and partner network they are better able to give worldwide support and cater every market need.
Being the Sofis distributor in Denmark we are pleased to offer their vast product range:
FlexiDrive – Remote Cable Drive Operator
EasiDrive – Portable Valve Actuator System

---