Winches and Deck Equipment

Steen's designers strive to ensure that their designs are simple for the shipyard to install. The shipbuilder is also assisted by the fact that much of the testing of the equipment's main functions can be carried out at Steen's works prior to delivery to the shipyard.
Steen's comprehensive range of production facilities allow for deck equipment to be entirely manufactured at the Steen works through the welding, milling, drilling and gear tooth cutting stages and their highly skilled and experienced welders are fully conversant with the techniques required to weld non-magnetic materials.
Quality has priority at Steen, although it may lead to additional cost initially. The Steen team members from engineers through to lathe and milling machine operators and welders as a matter of course insist on using first class material for manufacturing.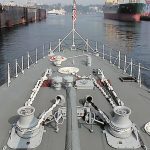 In addition to the equipment for merchant ships, mega-yachts and navy ships, Steen has developed and manufactured deck machinery for research ships, search and rescue vessels, barges, dredgers, marine construction sites and offshore units.
P.N. Erichsen is representing Steen Deck Equipment in Denmark and therefore we have the pleasure of offering their vast product range, which includes the following:
Anchoring equipment for studlink chaincables from 12.5mm up to 76 mm
Mooring equipment – motor-driven or hand-operated – including hawser rollers and capstans – capacity up to 360 kN
Cargo handling equipment – capacity up to 400 kN
Towing equipment with capacity up to 500kN
You will find a list of Steen's comprehensive product programme by clicking here:
Contact us for further information or any special execution needed. We are always ready to help with a quote.