HL-CONT Plus Series
Sewage Treatment Plants – Performance and Versatility
HL-CONT PLUS marine sewage and wastewater treatment plants combine ultimate performance maximum versatility: Extensive customization options, complete dismantling and compact dimensions make these systems the all-rounders in our program.
Benefits of HL-CONT Plus Sewage and Wastewater Treatment Plants
Extensive Customization Options
We offer a wide range of customization options for HL-CONT Plus wastewater treatment plants. This enables us to supply a system that exactly meets your specifications.
Simple Installation and Dismountable
With HL-CONT Plus systems, all components are integrated into one frame. which simplifies installation on board your vessel. All HL-CONT Plus sewage treatment plants can be completely dismantled. When dismantled, the largest components are small enough to fit through standard size hatches and doors.
Compact and Lightweight
HAMANN HL-CONT Plus sewage treatment plants are characterised by their small footprint and low weight. This makes them the perfect choice for applications where space requirements and weight are critical.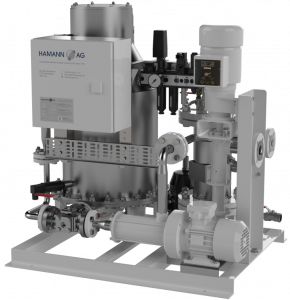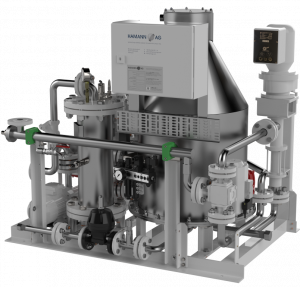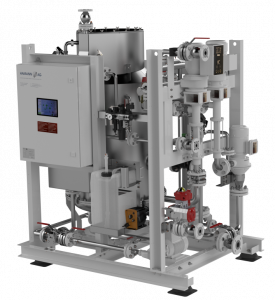 Specifications
Small & Light Sewage Treatment Plants
Model
HL-CONT Plus 0125
HL-CONT Plus 025
HL-CONT Plus 05
HL-CONT Plus 10
HL-CONT Plus 20
HL-CONT Plus 40
HL-CONT Plus 80
Capacity
(liters/day)
3.000
6.000
12.000
24.000
48.000
96.000
192.000
Persons on board
(180 l/day)
16
33
66
133
266
533
1066
Measurements w/d/h
(cm)
86/60/88
90/120/90
100/130/140
120/160/180
160/210/210
230/250/230
210/470/270
Weight empty
(kg)
115
315
680
820
1450
1900
4700
Electrical consumption
(kW)
2.1
2.3
2.6
3.5
5.2
8.5
15.0
Vent connection
(Inch)
1/2
1
1
1
1
1
2
Certification
All Models: IMO res. MEPC.227(64), EU MED Module B&D, USCG Type 2 (33 CFR 159)
Proven Sewage Treatment Technology
Dissolved Air Flotation
At the core of HAMANN HL-CONT Plus sewage treatment systems is our Dissolved Air Flotation (DAF) technology to separate the suspended solids (TSS) and to reduce the chemical (COD) and biological (BOD) oxygen demand. The principle of our DAF technology can be observed when opening a bottle of sparkling water: Pressurized water can hold gas that escapes rapidly when the pressure is released. In our system the macerated sewage is saturated with air under pressure. By suddenly releasing the pressure we create microbubbles that adhere to suspended solids in the sewage and float them to the top of the flotation tank. The accumulated sludge is skimmed and lead to a sludge tank. The final step of the treatment process in HL-CONT Plus sewage treatment plants is the deactivation of e-Coli microbes by UV radiation.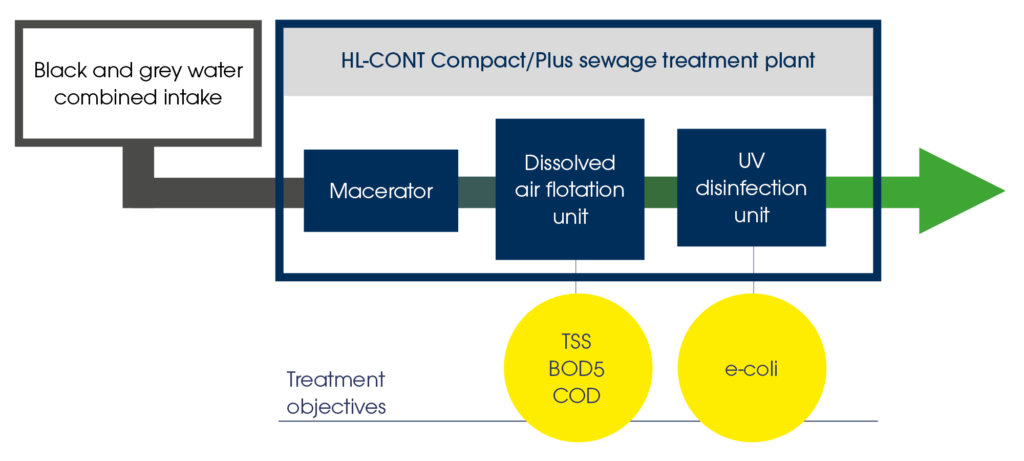 Uncompromising Quality
Top Quality Components and Materials
We use only the best components from reputable manufacturers and carefully select all materials to meet the requirements of operation in a maritime environment. HL-CONT Plus wastewater treatment plants are made entirely of metal; all parts in contact with the wastewater are made of stainless steel.
Designed and Manufactured in Germany
All our plants and systems are designed and manufactured in Hollenstedt, Germany according to our DNVGL-accredited ISO 9001 quality management system.
Proven Track Record in Marine Wastewater Treatment
HAMANN delivered its first sewage treatment plant back in 1972, even before the first IMO resolution on sewage treatment was adopted. Since then, we have installed over 5.500 sewage treatment systems on superyachts, ferries, cruise ships and naval vessels all over the world.
Unrivalled Performance in Wastewater Treatment
Ease of Operation
The routine functions are fully automatic, no special crew skills are required to operate a HL-CONT Plus wastewater treatment plant.
Ultimate Reliability
Proven technology and manufacturing to the highest quality standards combined with straightforward operation and low maintenance requirements give our wastewater treatment systems the reliability they are known for around the world.
No Membranes or Filters – Minimun Maintenance Requirements
There are no membranes or filters in HAMANN HL-CONT Plus sewage treatment plants, because they have to be cleaned, maintained and replaced regularly. All routine maintenance work can be carried out quickly and easily by the crew on board. The open design allows easy access to all components for inspection and service purposes.