EasiDrive
EasiDrive is an efficient and cost effective alternative to a dedicated valve actuator. Wherever you have manually operated valves that have high operating torques, hundreds of handwheel turns to open/close or are just difficult to operate then EasiDrive is your solution.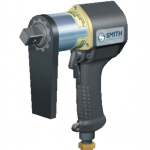 PRODUCT FEATURES
Low cost alternative to permanent dedicated actuators.
No requirement for a permanent power supply.
Ideal for minimum facilities installations.
Suitable for all climatic conditions.
Wide band torque capability with variable torque adjustment as standard.
Ideal for moving tight or partially-seized valves.
daptable to any size/type of valve.
Eliminates operator fatigue and greatly reduces the risk of injury.
Reduces work crew tasks to one-man operation.
Fully portable – can manage banks of valves with a single drive tool.
Each drive tool has a unique serial number and is supplied with it's corresponding certifi cate of calibration
EasiDrive can be installed on all types of valves as illustrated here: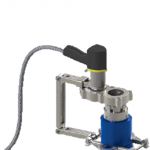 Gate valve, driven using an 'offset gearbox' and reaction device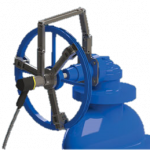 Gear-operated ball valve, driven using a universal 'bolt-on' handwheel drive plate and bespoke reaction device
Handwheel operated gate valve, driven using a universal, 'bolt-on' handwheel drive plate and reaction device