Rudder Propellers

The new design of the Jastram rudder propellers RP230 and RP380 is based on 40 years of design and engineering experience.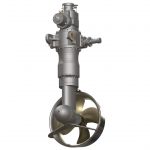 The proven high quality, dependability and robustness have been enhanced by the improvement of several technical details. The hydrodynamic shape was developed with the aid of CFD analysis. Our seasoned service engineers collaborated on the design process, ensuring cost-effective mounting and maintenance.
All rudder propellers from Jastram are approved by the classification societies.
The initial speeds of 1800 rpm and 2100 rpm mean that the rudder propellers can be used with all standard diesel engines.
The optimum propeller diameters for these two rudder propeller types are 900mm for RP230 and 1100mm for RP380. Other customized propeller diameters are available.
The following diagram and table show the performance ranges in relation to the propeller diameter and initial speed. Performance is restricted by the propeller surface load (kW/m²).
We offer a range of different configurations for the propeller.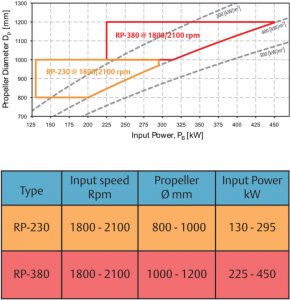 Contact us for further information or if you have a specific inquiry. Click here to view Jastrams brochure: