UniProp

Since 1974, Jastram has successfully produced propulsion systems based on rudder propellers.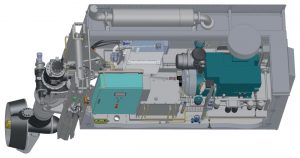 The new UniProp is an innovative development with comprehensive performance, while retaining Jastram's robustness and quality.
The universal propulsion system UniProp, is a complete package containing all necessary components for propulsion.
The system consists of a Jastram Rudder Propeller, a foundation with hydraulic depth adjustment and pivot function and a diesel motor.
UniProp is mounted to the deck of the vessel and is fully remote operated.
Download Jastrams brochure here UniProp and contact us for further information or specific quote