FlexiDrive – Remote Cable Drive Operator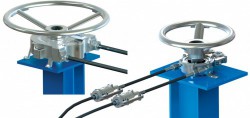 FlexiDrive is a versatile product consisting of two stations, joined by a linear drive cable, which enables valves and other wheel operated devices in remote, hard-to-reach or hazardous locations to be operated with ease from a conveniently located handwheel.
If a valve is placed in a hazardous area, below water, in a confined space, in a pit, where noxious fugitive emissions prevail or just plain out of reach, Flexi-Drive is the answer.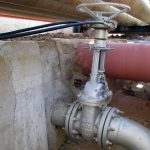 Developed originally for use by the US Navy to operate valves in inaccessible locations on board ships, Flexi-Drive can now be applied to any conventional wheel-operated valve/device, in oil, gas and chemical processing plants. It is suitable for underwater use and the most extreme climatic conditions.
The cable system can deliver torque output for most manual valve operations and transmits drive up to 30 metres from the operator station. The flexible cable system facilitates up to 540° of bends in the cable run.
Click on the product name for further information
or download our brochure here