TG-100

Seals for water lubricated propeller shafts
Thordon TG100 is a mechanical seal designed specifically for 86mm (3.375″) to 305mm (12″) shaft vessels operating in either clean or abrasive-laden waters including workboats, harbor tugs, offshore supply vessels, yachts, ferries, fishing trawlers and self-propelled dredgers.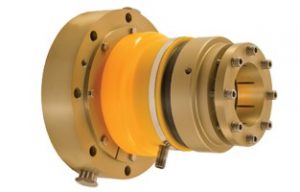 The TG100 seals use hard wearing silicon carbide faces and proprietary elastomeric polymers to offer the best combination of strength/stiffness and flexibility/elasticity.
The main characteristics of TG100 are:
Unlimited shelf life on elastomeric bellows
Elastomeric bellows accept axial/radial shaft movement and compensate for alignment issues
Manufactured for long wear life and reduced maintenance costs
Wedge "lock" design ensures the rotary face is perfectly square with the shaft
Hydraulically balanced to accommodate various drafts
A unique feature of the TG100 is the emergency seal that allows stand-alone operation. This not only ensures that you safely return to port but helps prevent permanent seal damage.
The TG100 should require no periodic maintenance. A well-maintained seal should require no parts within a 5-year drydock interval, however an additional "water port" allows for cleaning/flushing of dirt and abrasives deposited in the bellows over time.
Click here to view the TG100 brochure and contact us for more information and/or a quotation