Composite

Thordon Composite is a two-component bearing formulated specifically for use in very abrasive environments such as water lubricated cutterhead shafts. The actual bearing surface is a black material and is referred to as GM2401. This softer material is fused to a yellow, stiff, high strength polymer sleeve. GM2401 is homogeneous – there are no layers of differing materials and properties are consistent through the wall thickness.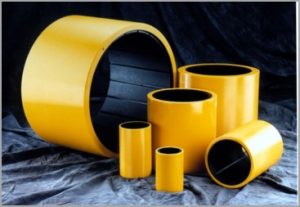 Thordon Composite has been consistently outperforming rubber in dredge cutterhead bearing applications since it was introduced in the 1970's. Composite bearing wear rates in dirty abrasive conditions are typically half that of rubber bearings reducing maintenance downtime over the life of the vessel. Thordon also supplies grease free ladder trunnion and drive shaft bearings for dredge vessels.
Composite GM2401 is specially formulated to provide superior wear resistance in abrasive-laden water conditions, routinely outwearing rubber bearings by a factor of two or more, yet, still exhibiting a significantly lower coefficient of friction compared to rubber.
Main characteristics of Composite GM2401:
Proven bearing wear life – lasting twice as long as rubber
Reduced maintenance down time
Water lubricated – no grease
Easy installation
Specifically designed for very abrasive applications vertical pumps, hydro turbines, suction cutter head dredger
Higher resilience and stiffness than rubber
Maximum Working Pressure: 3 MPa (500 psi) – Intermittent, limited rotation
Composite bearings are available in a full range of sizes in both tube and stave configurations.
Click here to view the Composite GM2401 brochure